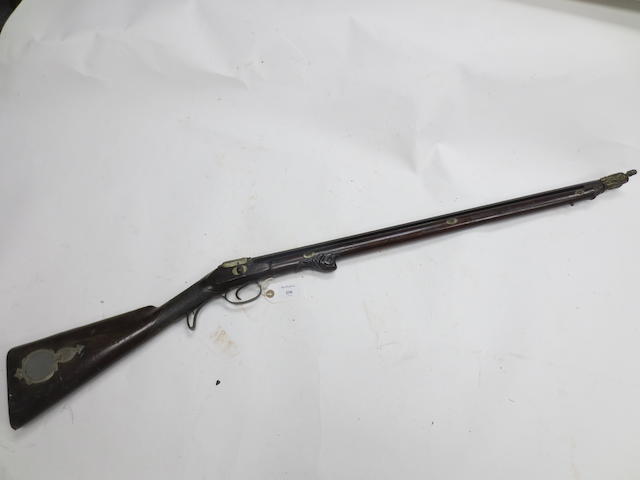 Courtacey of
BONHAMS.COM
https://www.bonhams.com/auctions/24657/lot/206/
A RARE HODGES PATENT CATAPULT GUN
UNSIGNED BUT ALMOST CERTAINLY BY RICHARD EDWARD HODGES, NO. 56, CIRCA 1850
With octagonal barrel open over nearly its entire length on each side to accept an india-rubber cord (missing) secured at the muzzle by a brass mount cast and chased as draped figures of Britannia, white-metal action and tang engraved with scrolling foliage, pivoting white-metal access cover engraved en suite and incorporating the rear-sight, figured full stock (old bruising) with hand rest carved as a scrolled leaf, chequered grip, scroll engraved iron mounts including scrolled trigger-guard, white-metal butt-trap (hinged circular cover replaced), and vacant white-metal escutcheon (steel parts pitted overall)
76.2 cm.
Footnotes
Richard Edward Hodges was granted English Patent No. 12623 in 1849 for 'application of india-rubber to projectiles' and also manufactured projectors, accumulators and door springs all of india-rubber. For more information see Howard L. Blackmore, Hunting Weapons, 1971, pp. 171, 209, pls. 83-84
The other version: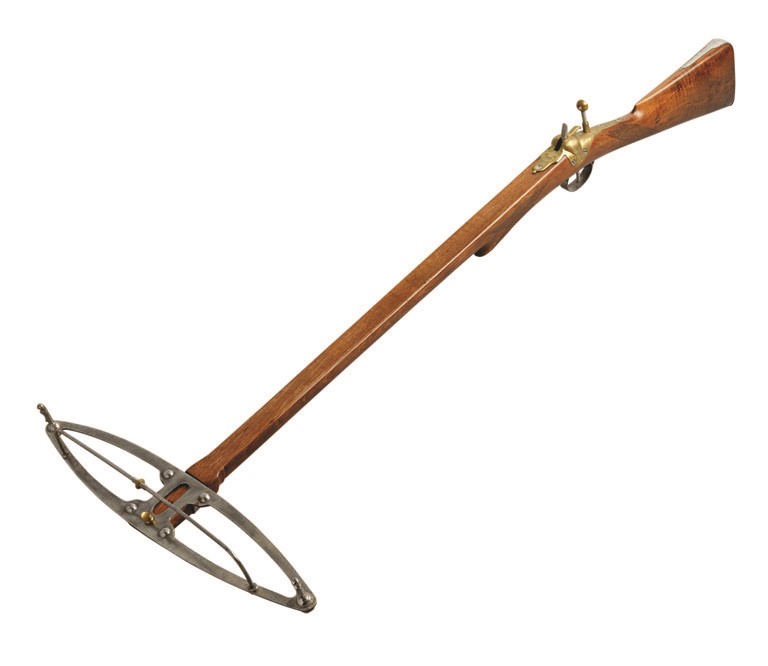 I think you know more about it than me Robbo.
Maybe trying to contact pyramid air and Larry Hannusch might be a idea if you get no leads here.
Salutations Konrad.