·
So Many Marbles ------------- So Little Time ;-)
It's 63゚ at my location at about 6 in the morning. I pull out the gold flats that I'm experimenting with that I bought off off Amazon, I'm shooting 3/8" steel at 272fps, I'm very very happy with that at this temperature, these things are flying out of here. I have no doubt that when the temperature warms up to 75゚ I'll be shooting well in the 280fps +
These flats seem to be pretty accurate also as I'm smacking everything in sight, I'm pulling these to a good 525%+ elongation factor, they are a 20mm x 14mm taper (after I shortened them to 6.35" for my 32.5" draw length) these bands are 1mm thick.
Been shooting for a while and it's now 71°, the sun is out so I gave the chronograph another try, she is now shooting 293fps !! Yes, this rubber around to 70° mark really is performing :- )
I'm shooting at all kinds of junk stuff some are misses some are hits, but boy or boy the slingshot setup is sending them. I'm extremely happy that the 5/16" still going out at 300fps+ with my lighter F-16 set ups and the 3/8" steel are approaching that speed.
I have shot maybe 70 shots+ and my band to fork tie has not budged at all. As all of you know trying rubber to rubber using a rubber tie has some give but holds extremely securely, just look what others have done using a tube over their shooting elastic, whether it's tubes or flats.
I might add that with this powerful band set, I have not got finger return hits or web of hand hits :- ) Below is a pic of a 3/8" Steel in the small 45mm Micro Pouch - I always
now
use the smallest and lightest pouch that will cover my ammo !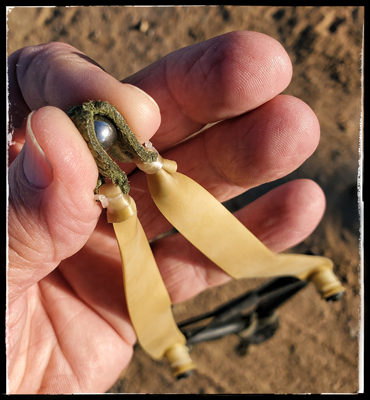 Heading home, shall return tomorrow !
wll