·
Member, Brotherhood of Slingshot Nutz
To begin, let me say that I am in no way trying to show off my skill here. I just wanted to share these with you. I am not very skilled at working with plywood yet. But I do find it fun and the results of my work are, if not beautiful, at least pretty safe to shoot. This is a quite inexpensive way to work as long as you don't try to get too fancy, especially if you work with just a coping saw, a 4-in-hand rasp and some sandpaper -- oh yeah, and a drill. (I use my knife a little, too but not necessary.)
So here's the three I'm working on (stained but no varnish yet).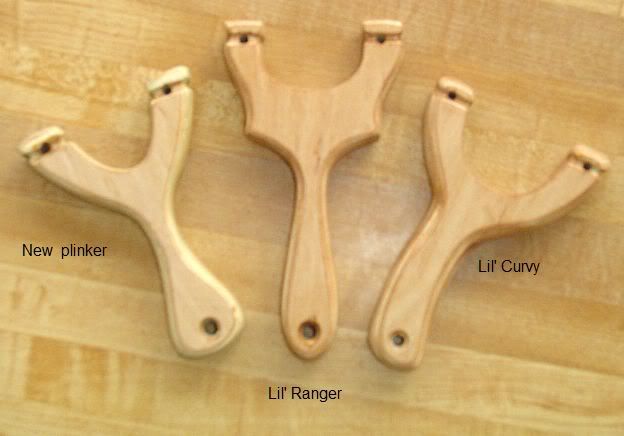 First I'd like to talk about Bill Hays's "Lil Ranger". This thing is an awesome design. I haven't shot with it yet, but just holding it tells me all I need to know. I'll bet this easy to make design will become a true classic in the self-made slingshot world. I love it. I left out the work at the tip because I haven't the skill to do it without making a mess. So I kept it set up like my "Pocket Buddy" series, which handle OTT flats and Chinese tubes.
I printed out Bill's pattern and enlarged it by 1/3. Now it is just right for me. Here is how it looks in my hand.
Thanks Bill for a great design.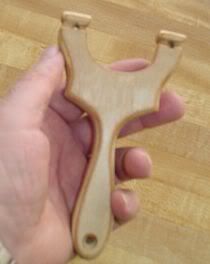 The next one I copied was my own original "Curvy", but this one was made from the reduced pattern offered here by e-shot. It becomes a very different shooter this small and I converted it into another pocket buddy. It's pretty cool.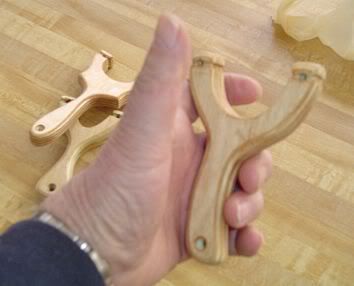 And now for the new plinker/pocket buddy. This one shoots nice and is my smallest pocket buddy style slingshot to date. I will enclose the pattern below.
I don't know how original this new design is, but I drew it up out of nowhere with my drafting program a couple days ago and just went for it. It was sort of a surprise attack by the slingshot muse. LOL. Turns out that it's a good little shooter.
Thanks for looking. Hope somebody can use the pattern.
Edit: Well, I strapped up the Lil' Ranger with some light flats and shot about 30 rounds of marbles and 7/16" steel. I gotta tell ya, this is one seriously good slingshot. Great design! Excellent job Bill.