·
So Many Marbles ------------- So Little Time ;-)
Discussion Starter
·
#1
·
I'm setting up two single tube slings to do some light practicing this up coming weekend.
Both are smaller frames but of good quality, the smaller of the two has a single strand of amber 3050, and the other (a gen1 Luck Ring, IMHO the best Luck Ring) has a single strand of Kent 3/32id x 3/64wall x 3/16od.
I'll be shooting primarily 5/16 steel with some 3/8 steel thrown in.
I have a PVC catch using a blanket as a stop and will start out in the 15 yard area and then go longer from there. I really want to smack a soup can 6+ out of 10 times from about 20 yards and want to do away with my left and right problem (although it is getting much better).
Below is a pic of both slings set up and ready to go -----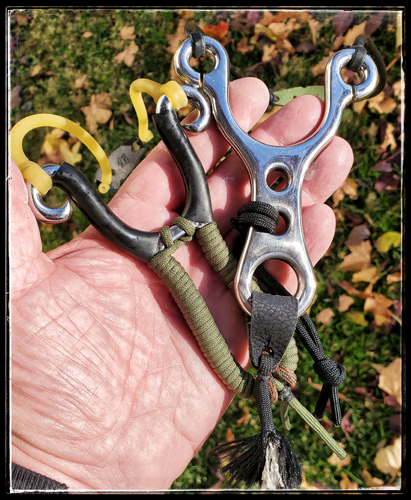 wll