·
Brotherhood Of The Slingshot Nutz
Discussion Starter
·
#1
·
Targets' view: rear anchor point...top tip of band as reference to target...eye aligned with band.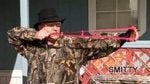 Side view of shooter lined up with target.
The instant of pouch release.
Ammo out of pouch and just past fork on its' way to target.
Holding shooting position as ammo speeds to target for follow through.
This is my attempt to answer the question to make a video on how to aim at a target. It's the best I can do. I couldn't figure out how to do a video showing the shooters perspective while aiming at a target. Hope it helps.