Discussion Starter
·
#1
·
Had a convo recently about finishing, or in my case... zealously "over finishing"
Hey it's my catty and I'll sand if I want to LoL. It is indeed a labor of love for me, I really *do* like nicely finished wood. Heart and soul they say. Even so it is a slingshot and should be shot, right? With that love...there is pain - can't be one without the other...today has been one of those days.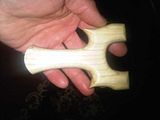 2000 bearings have passed over Mini Skitty Tail's forks and every moment, from just a board to the last finishing touch, has been fun. Shot 2001...fork hit. Dang it! 2002 ... *another* fork hit. Long story short- this dogs day in the sun is done. With a moral...inspect your fork, inspect your blasted fork , inspect your dang blasted fork!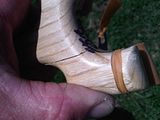 This is the end
Beautiful friend
This is the end
My only friend, the end
Of our elaborate plans, the end
Of everything that stands, the end
No safety or surprise, the end
I'll never look into your eyes...again
Can you picture what will be
So limitless and free...