Discussion Starter
·
#1
·
Hello again everyone,
Yes, I've been dragging my wagon but I've had a ton of time sit around at home so I set up a little working station in my mud room to pass some time and get some work done where its warm. I cut the basic frame out of some scrap oak with a jig saw about a week ago but I just got going on it on Wednesday with hand tools only. I actually finished it up that day as I was working at quite a pace in order to see how fast I could do an oak boardcut by hand for future reference....The shape was actually partially inspired by the recent works of Mxred and Hrawk, and the wonderful boardcuts from Chaneke_Josh.....I basically just made some basic measurements to my liking in a frame, and then free handed the rest, so it is really a one off. Just another sturdy frame to have around.
Yesterday it went off to the staining station for some colonial maple (yes on oak, it's a bit strange)........after 2 coats, it looks good! There is some spots where it pooled up a bit because there is a small amount of inconsistency in some spots as seasoned oak is tough to work by hand. Other than that it's a good looking color that brings out the grain quite well.
I strapped up with some thera-gold that I cut a long time ago and never really got around to using. It's folded and its tapered.. 1 1/8" x 3/4" x 9 3/4" .. it works great stretching back to my 31" draw and I don't think it's maximized in stretching so that should help with longevity. Did some shooting today with it, I was again impressed by the power, but I'm no big thera-band fan. To me it's too fussy measure, cut, strap up, and readjust after every shot. And it won't last as long as most of my other bands...yes I realize there are makers out there with very long lasting thera-band sets, but I'm just going by those made by me. To each their own.....I have quite a bit of the stuff I got for a free so yes I plan on using it in spurts, but I wouldn't take it hunting with me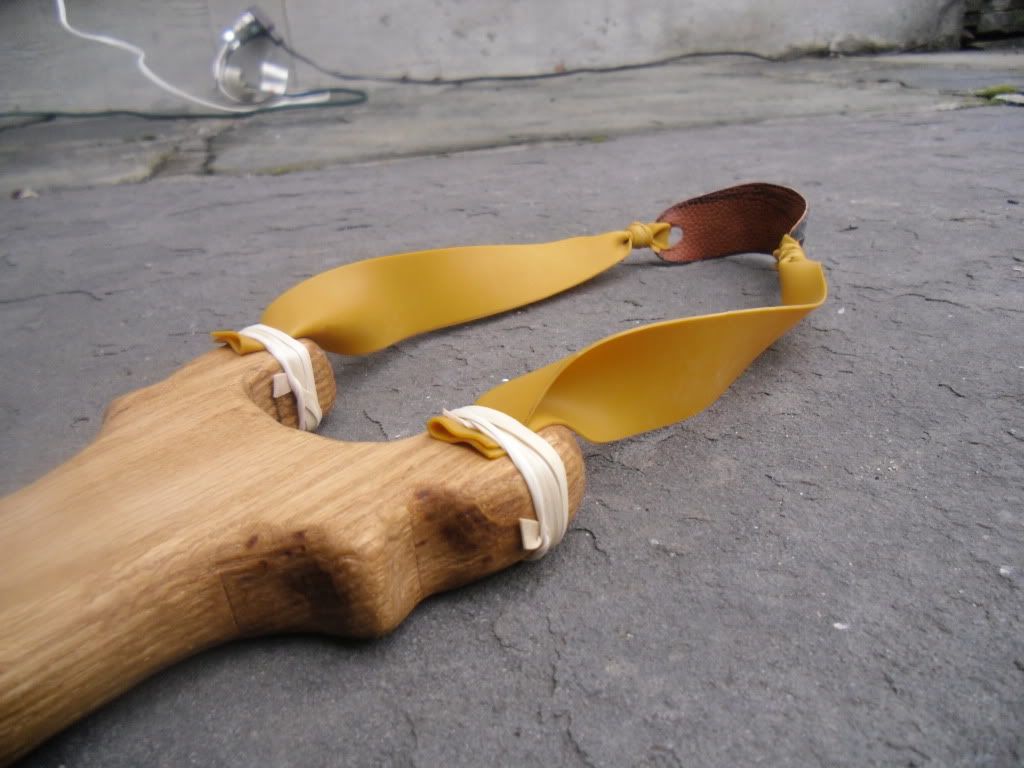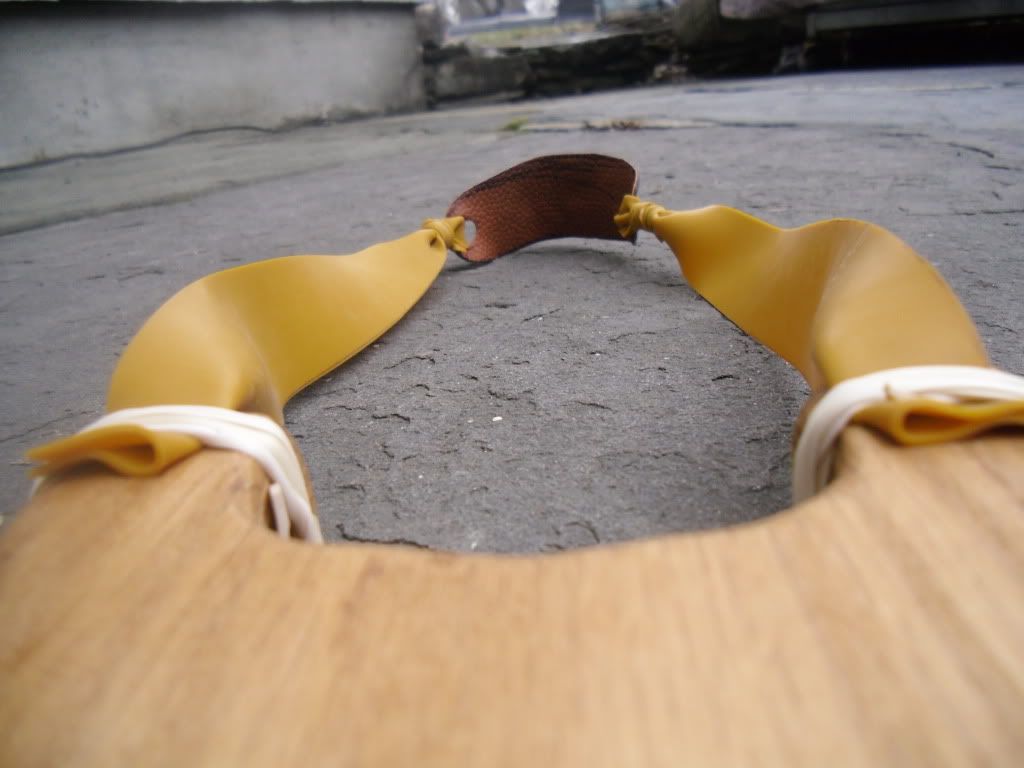 Some pics before banding up so you can see the grain and the grip on it better. It has a 2 1/2 in fork gap as well, perfect for those new to slinging.
click to enlarge:
Nothing to special, and certainly a far cry from perfection. In all honesty I made it to be a frame for new shooters, or those I don't trust to much, to shoot with me. You never want a newbie flinging hex nuts down range on one of your treasured beauties!
I hope you like, I'd love to hear you comments, it certainly was a joy to craft with simple files and sandpaper. I'm certainly no master craftsman with boardcuts, they simply aren't my forte, but I'll continue to make them and shoot them on occassion as I enjoy everything that has to do with slingshots.
Take Care - John