·
Member, Brotherhood of Slingshot Nutz
Discussion Starter
·
#1
·
First of all, I'm starting to get embarrassed to show my work here, the caliber of slingshots being posted recently has gotten so awesome
.
But I know there's a few of us here who still like rugged naturals and use relatively primitive tools to make them. We can't all be experts, but we can all have fun, right?
Anyway, this natural is the result of a couple of experiments. One had to do with aging the wood, and the other had to do with finishing.
First of all, I read from Baumstamm that you could cut a green fork and boil it in salt water instead of aging it, to keep it from cracking. So last Saturday, I cut this fork green. Then I took it home, stripped off the bark, and and boiled it for about an hour in heavily salted water. Then I let it dry for a couple of days, after which I carved it and sanded it smooth.
The next experiment was in coloring. I diluted some ordinary green poster paint in water and rubbed it on, then wiped it off before it dried. I let that soak in for a few minutes, then I repeated the process with some brown paint. Then I let it dry for a day (or 2?).
I then re-sanded with 350 grit wet & dry and applied a flood coat of linseed oil. Let it dry another day and applied another flood coat. Finally one more drying day and a polish with a soft cloth. It's an overcast day today, so the pics don't really do it justice. The finish is nice, trust me.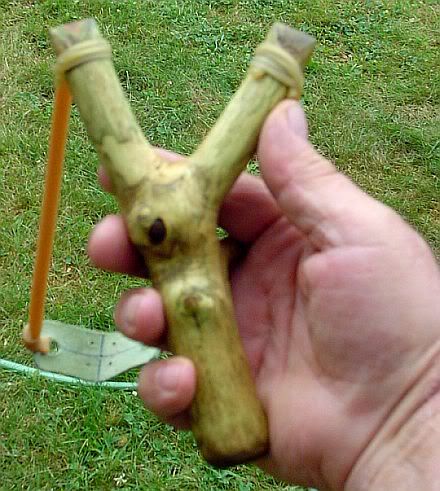 With one of my favorite knives
Look at the little branch coming out: it was in just the right spot for a firmer grip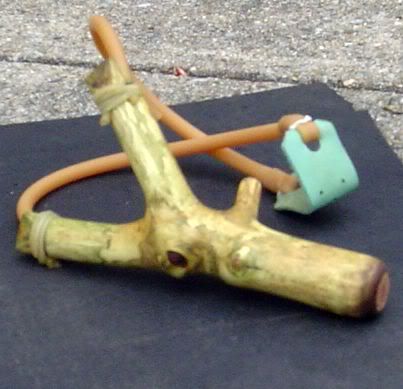 This is really made for flat bands, but I have had these tubes from BunnyBuster (Tom) sitting around too long and wanted to put them to use. I shot pretty good with them.
Well, that's my experiments, hope someone finds them of use. Thanks for looking.