·
Member, Brotherhood of Slingshot Nutz
Discussion Starter
·
#1
·
Here's a couple of fun, interesting naturals I made in the last couple days.
The one on the left is made like a gloveshot, sort of. Now that we are using light draw bands, butterfly style, well there is no need for a wrist strap or anything. I am going to strap this up with some single-layer Tex Shooter bands and stretch it out.
. This is my solution to the problem I have with hitting my hand while butterfly shooting (hope you're reading this, Darrell).
Once I shoot it for a while, I will let you know how it works out -- I hope I don't blow it up, cuz it's kinda pretty, I think. Even considering the awful jigged effect I tried to impose on the handle to make it more grippy.
Here's how I hold it.
The other one is a really really small plinker for my shirt pocket. But I am gonna make it a gypsy rig when my hands feel better. It will be small but it will shoot a nice set of 4-strand chinese tubes nicely I'm sure. Which means that in the hands of the right marksman, it could take small game -- again, the closest I can come to dgui's latest no-fork powerhouses.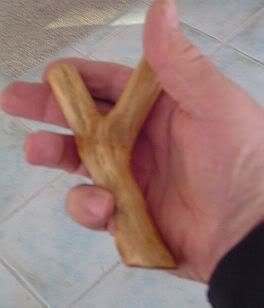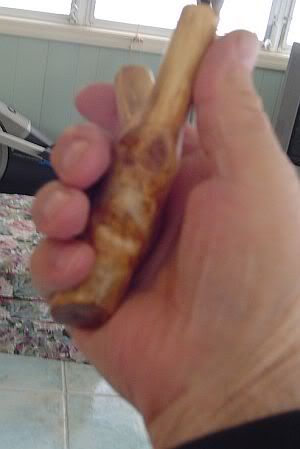 imagine it with tabs on it... pretty good size. At least as small as I wanna go
Thanks for looking. Hope you like them.