Discussion Starter
·
#1
·
I had made a trade with Dragonmaster a while back and in return I recieved a pair of these home-built dankungs. Upon recieving the package in the mail I was at first very happy to see he had sent two (always very nice) as I only sent him one natural. I didn't know he was going to do this and I found it to be very generous on his part. The two dankungs (or Dragon-kungs, if you will) are pictured below for your review:
I have, in the past, had one of these and didn't like it much, though that was before I learned how to make and shoot the chained rubber bands. I wasted no time in strapping up with a set of Red Clay 32/444 with an ersatz pouch. Keep in mind I hard-tied these versus allowing them to "float" as is done with the majority of these slingshots. I have often thought about using these in this manner but I think the individual strands would free themselves of the eyes and while that's not a fault of a slingshot made for Chinese tubes I didn't feel like chasing it down all the time. So I hard-tied them and that was that.
I was immediately struck by the heft of these slingshots. I believe he bent them out of 5/8" stainless steel rod, which should make them nearly indestructible. I think they are bent quite well and they lay very flat, feel great in the hand, and also slide into one's back pocket like a lover's hand. They also have little lanyards hanging from the handle-wrapping that are great to leave outside your pocket. They are great to use to pull it free from a pocket, as was proven in some tests inside my house. I believe it would work as well on a stream or in the field.
I went out on my porch with three .44 lead round balls and performed what I call a Three-Shot Drill with no warm-ups with either this slingshot (the larger of the two) or any other all day. My target was a rabbit-sized chunk of wood at around 20 yards. I drew to my chin, hoped for the best, and was rewarded by a resounding thwack as my .44 slammed into the "rabbit". I was greatly heartened by this and tried again with identical results. Knowing I was onto something good I fired off #3 for another solid hit. I was pretty stoked as I didn't have a lot of experience with this kind of slingshot, honestly wasn't real hot on them, and now had a great mini-session. Later in the evening I shot five times at a soda can in my yard at around thirty yards with .44 and .38 lead round balls and was able to connect twice at that range. I felt that was pretty decent shooting at that range and also heartened that my misses were all by inches (and only a few inches, at that) and not by feet or yards. Remember, this was with a slingshot that was not of my favorite type and also had been warned by the builder that they would shoot a little different than what I was used to and would probably need some re-training. Well, I'm happy to report that I seem to be getting along just fine with them and while I had wanted something small and waterproof for my summer wade-fishing (typed as we have 5 inches of snow on the ground with more falling) I can report I will be using these for much more. I will never give up my naturals but these are pretty impressive in their own right.
There was one "feature" with these that I really liked, even more than I did on the factory-made ones. These were home-built with what I will call minimalist equippage (which is what made me want one so badly to begin with) and the "eyes" where the bands attach have a very slight point at their exact tops. This keeps the bands anchored very well, versus the perfectly-circular eyes of a commercial model. I'll also say my American copies (strange to say that, I know) have very smooth eyes, bent perfectly, and are also very flat. He did a great job on them and there are no projections or rough metal anywhere on either of these.
While I am no authority on this kind of slingshot I do know they have been in use in China for some time and are quite traditional there. I can see some Chinese farmer bending one out of a scrounge piece of iron bar left over from repairing something after the day's labours are done and going on his merry way, alert for rabbits and pigeons as he went about his daily efforts. Anyone who thinks otherwise should check out the following propoganda poster from Mao's War On The Sparrows: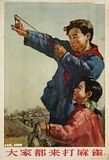 I know Smitty and perhaps a few others (Tyla) have made these and Smitty had even built a jig to bend these on. I realise I haven't killed anything with them but these do shoot pretty good for me and I give them the jmplsnt Two Thumbs Up.
thanks for looking, and thanks Dragonmaster for a pretty good pair of slingshots. Your work pretty well sums up my Slingshot Philosophy!