·
So Many Marbles ------------- So Little Time ;-)
Discussion Starter
·
#1
·
Yep, re-tubed the old Bone with some F-16 yellow tubes.
Yes, pulling these tubes back all the way will rip the tendons from your fingers, tubes could break and smack you in the face, snap the nylon bone slingshot sending fragments through your skull ..... or possibly do all the above at the same time ;- )
I do shoot the Bone from time to time as a novel sling (yes with the right elastic it shoots very well). What I mostly do with it is shoot stuff just to watch it fly, I really don't pull back all the way with heavy tubes like this as it is fun just to play around with watching your ammo sail into the wild blue.
With the virus thing I'm not going to shoot any of my good ammo, but may launch some rocks I find on the ground tomorrow while doing some serious practicing the standard F-16 pouch is plenty big for that ;- )
Below is the Bone, ready to go !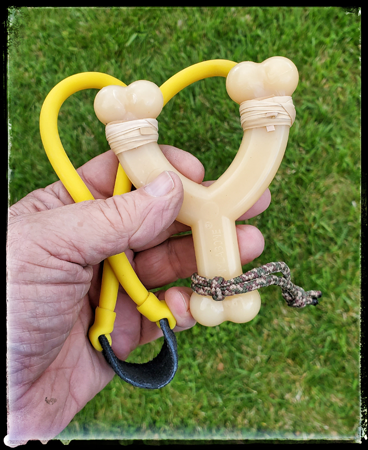 wll