You really can shoot bbs with any frame. Just band it up to match the (lightweight) ammo!
Here are a couple of examples.
Here are a couple naturals, a Gen 1 Scout, an oak Axiom Champ and a Daisy B-51. All set up with #64 office bands, cut in the middle, one per side.
Here's a ply flat-top Jelly Bean banded with 1/4-inch SS black bands for butterfly shooting.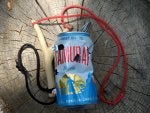 Here's a natural with 1632s. Good for .177s or, in this case, 5/16-inch steel.