As the title suggests, I have started shooting frameless a lot. And by a lot I mean 500 to 600 shots a day.
because of this, I have come to some interesting conclusions, such as frames look cool and may be fun to make and use, but are not necessary in the slightest. I got my first tubes last Wednesday, 1842 and 2040, up until then I was a dedicated flatband shooter, but after using a 1 to 1 pseudo taper on the 2040 i have started using tubes more(at least for the moment). I had seen frameless shooters such as Jax and Volp before and was interested to say the least, especially when I saw fowler with one on his wrist. So I cut some 1842 to 16 inches added a Warrior seal pouch and went nuts. Started with Jaxes over the knuckle style and moved onto the chinese or Volps style of shooting, I was very surprised at just how effective this really is. I was knocking down 9 out of 10 cans at 15 yards by the end of the first day with a 10 shot allowance. All this has lead to some nasty blisters on the back of my pointer finger. I am going to slap a bandaid over it and head back out there now, gonna try for 10 out of 10 at 20 yds. wish me luck.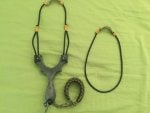 Edit: If I posted this on the wrong thread please let me know.