·
Member, Brotherhood of Slingshot Nutz
Discussion Starter
·
#1
·
Got a little unexpected free time.
I posted a while ago about how Dgui's great little pickle forks were so much fun to shoot. But with the one set up for butterfly shooting I tore up my hand. Recently I started shooting butterfly again with it and hit my hand again and got a few more fork hits. Man these little things are tough! Unfortunately they're tougher than my hands, though.
Then Darrell came to the rescue and sent me one of his Full-Figured pickle forks. Even though I was a little skeptical (and a little afraid) I took a chance and butterflied with it. No fork hits and my hand is unblemished.
I guess I like my slingshots like I like my women: full-figured and natural.
But even though it isn't natural, this wider fork fits the bill. Here's a comparison between it and the original.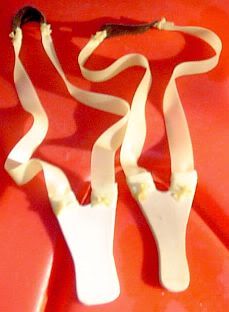 Fits my hand like this:
I found out that this rig with Bill Herriman's latex bands is definitely too powerful for 1/4-inch ammo. I wish I could have video'd the crazy path of the BB's I shot. Things settled down nicely with 3/8 steel afterward. But I still can't hit anything.
Oh, well, at least I'm not ripping up my hand in the effort.
Thanks Darrell. I was afraid to shoot any of your pickled balls yet for fear of losing them.