·
So Many Marbles ------------- So Little Time ;-)
Discussion Starter
·
#1
·
I have a few of these bruisers, and this one is loaded up with 1/16" id, 1/16" wall and has a 3/16" od. This sling is highly magnetic, as heavy as your Aunt Bertha, but has a better shape
These tubes are stout to pull but can handle a heavy payload ... don't use 3/8" steel with these !! I would recommend 100 gr minimum up to maybe 200+ gr but I did shoot 5/8" marbles and they flew very fast, almost to fast as they curved a bit in flight. These tubes can smack down big stuff with heavy ammo. This combo could be a real **** smacker. With heavy ammo and/or hex nuts, Mr. Raccoon would not know what hit him !
This is pretty heavy duty set up, it is like your riding in a Caterpillar tractor instead of your Chevy truck !
Anyway, I did shoot it today, as stated above, it is comfortable to shoot, but as I stated before it is VERY heavy. It is not IMHO the sling most folks would want to carry in the field all day, but it is the sling to have in your car trunk or when you just want a powerhouse stable slingshot around. I will add that because of the size and weight this sling is meant for more powerful elastic. IMHO, why carry this guy around if you are shooting 1842 or 1745, unless you like the weight to keep you steady, and yes it does feel very steady and solid in the hand which is on the plus side for sure with this sling !
Below is a pic, and as you can see, this sling is a tank !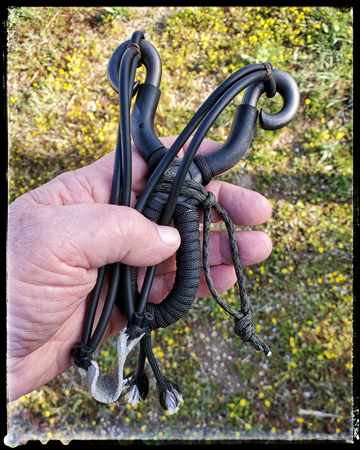 wll