Discussion Starter
·
#1
·
As a young trapper and game hunter at one time there were many occasions when I wished i had a slingshot with me. If you ever hunted in Colorado you can relate to the time when grouse and snow shoe hares could have been dinner. Or when your standing on a rim over looking a small grove of Aspen trees you wondered what was bedded down in them. Shooting a marble at a near by boulder might of brought a fine buck to stand up to see what it was. Now that my trapping days are over and my hunting days are numbered I made up a small light weight shooter that would be effortless to carry and certain that you would have it with you.
Made from Goncalo Alves it measures 3" from outside of the 1/2" peg forks. The measurement from top of forks to bottom of the grip is 4 3/8". There is just a slight touch of ergonomics and rounded corners to make it comfortable to shoot. And it does shoot quite well. It is finished with Pre-64 Winchester oil finish.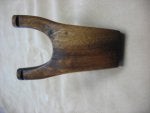 I found a Don Hume handcuff holster at a garage sale a few years ago and made the sling to fit perfectly in it.
Even though it probably won't see much hunting and trapping I'm sure it will make a nice hiking companion down around my desert camp.
Thanks for looking. Comments always appreciated.
'drif