·
Member, Brotherhood of Slingshot Nutz
Hello everyone. I posted a few days ago about some stuff I got in the mail. Well, I finally got around to banding up Skit Slunga's little mini skitie. I used the TheraBand Black he gave me and made a pouch out of the leather he sent. Awesome leather, Skit. Sorry I didn't get in into the pics.
The Thera Black is really, really nice. Believe me, it is fast and accurate. Skit was experimenting with butterfly shooting -- but no way am I gonna try that -- so I was unsure of the length that was best, but I used his width measurements, which were taper from 1" down to 5/8" but I doubled and made one band per side and folded. I used a formula I learned from one of Baumstamm's posts to get the length. My draw is about 33" so I cut the bands 6" in length. They were perfect.
This little thing is an awful lot of fun to shoot and the workmanship on it is top shelf all the way.
Here's some pics.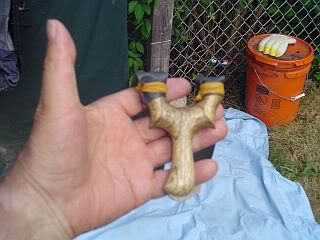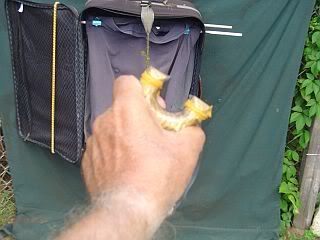 This truly is a nice little slingshot to put into your pocket (could even fit into a shirt pocket) and it is real easy to shoot with the black thera. Great job, Skit! And thanks again for everything.