Discussion Starter
·
#1
·
Some months ago I was gifted with an incredible antler slingshot by Tom Krein (Tom, where did you go? We haven't heard from you in a while!). I have to say this slingshot is one of the nicest I've ever owned and in fact was so well-made I actually broke down and used some Thera-gold on it as it was made for flatbands. It's a fine piece and had set me to thinking of antler as a very viable alternative natural fork.
I've also seen a few others done by some other forum members. The chained killer Nico uses to release souls from various unfortunate animals immediately comes to mind. If his body of work can't convince you of the effectiveness of a chained antler catapult, then I feel you're pretty much hopeless. I also remember one in the process by Stelug, who I respect a great deal. Hey, did you ever finish it?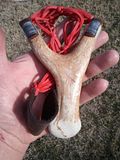 I spent a lot of time looking around for a good enough deer antler for my own slingshot that would be fitted with the gypsy tabs and chained rubber. I was able to source a lot of very nice anter over in Europe (Sika stag, I believe) as this deer's antlers are quite straight for about the first six to seven inches, then form a nice even fork. Our whitetails here in the US have antlers that are much curvier and fork much less evenly than these. I spent some time prowling in flea markets, second-hand shops, and elsewhere looking for a good piece of antler. I decided against the Euro-antler as I wanted something from my local area and also was deterred by the ferocious postage I'd incur to ship a little deer antler.
I put this project to the back of my mind but never gave up. A few days ago I was in a local flea market and happened upon a shed antler going for the princely sum of a fiver, so of course I paid the fee and walked out with my prize. I was very excited and while I wanted to get to work on it immediately I spent another few precious home-days trying to place my cut-marks. After all you are only going to get one chance to get this right and as I've had such problems sourcing quality material I absolutely had to make my plans come to fruition; zero re-do's on this one.
I first cut the fork free of the antler using a hacksaw. I have some very limited experience in working antler and will say it is an incredibly dense and strong material. It also stinks horribly when being cut so I did this out in my workshop building. It took a good while to make the four cuts (tips of the tines and both sides of the main antler) and provided a great reminder of how hard antler is to work. I then began working the antler with a small hand-powered grinding wheel. It didn't take long to realise I had my work cut out for me using this tool and after about 30 or so minutes of hand-grinding I gave up in disgust.
Those of you here know me as one who believes in hand tools, spending no money, and scrounging materials whenever possible. As I had already violated Rule #1 by purchasing the antler I decided to throw the rest of them out the window. I retrieved my side grinder fitted with a 4" metal blade and got to work. The crazy thing is it takes quite some time to shape the antler using even the incredibly destructive power tool. I used the grinder mainly to shape the rounded base of this slingshot from the main body of the antler and it proved to be a great decision as this lays perfectly against my hand.
After the shaping work was done I quickly evacuated the shop building due to the horrendous stench and began attaching the tabs made from, of course, scrounged work boots. I completed the slingshot by making up a set of Red Clay #32/444 and binding them down with bands saved from old broken sets.
I stepped outside with my shot bag and began engaging Diet Dr. Pepper cans thrown in the yard by my wife in her haste to go shopping yesterday and today. At first my shots went wild as I wasn't sure if I was going to hold it with the curve facing towards me or away. After some near-catastrophic shots with the curve facing me I flipped it around and immediately began scoring hits. Lots of hits! I was able to repeatedly strike soda cans at 20+ yards and once I was able to get one on my first shot at a little past 30 yards shooting a normal glass marble. You all know marbles stink at that range and I was very, very happy both with the antler frame and the way the 444's shot the marbles. My final shot of the day was to fire the marble that ripped one can in two at around 20 yards. I can honestly state that after this session I have a new favorite slingshot with zero reservations.
If any of you are interested in creating your own I will save you all a lot of effort and reccomend both a cheap Chinese sidegrinder and hacksaw. That's the only way to go when working antler in my opinion and you actually can achieve a somewhat tolerable finish to your antler with the course metal blade. Of course one could use a buffing wheel with compound and I may do this later this year after it warms up.
I also like the fact that this was a shed antler and the deer is running around out there still. I don't have any problems with hunting (do a little myself with the slingshot as you all know, though I don't post all the kills) but really like the fact this deer is still in my local area doing its thing, and perhaps someday I'll find another antler it's shed and make a companion catapult for this incredible piece I now have.
thanks for looking