Discussion Starter
·
#1
·
Saludos everyone,
This post was intended to be for November 2nd El Dia de Los Muertos but my cell phone and its network which I use to take my poor pictures was not getting through emailing the pictures until yesterday. Of note the resortera was completed on the night of
Dia de los Muertos.
Now I have time to post this here as I already posted this resortera on Jacksshed.
Some months ago I was given a wonderful fork by my chain gang brother jmplsnt it is a hackberry fork I believe.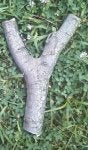 This fork inspired me during this recently passed special season to carve this fork in Honor of the Day of the dead which is a Mexican Festival in honor of our deceased and is about ancestral rememberance.
The fork was carved in the usual vertebrate style which for reference sake is based on Osteological imagery (bones, spinal cords etc)
To this fork I added some pyrography based on the (tzompantli) or skull rack which is a practice carried on by both the Mexica( Aztec) and Quiche (Maya). This was a rack of skulls from fallen enemies which in a round about way was intended to remember their strength and in turn this brought Aztec warriors well being and prosperity in their lives.
This skull rack was also symbolically incorporated into some of the stone Temple walls as they had an altar that was used in rites of reverance to the dead.
It is from this symbolism that I borrowed heavily to make this slingshot a tribute to this sacred day as this fork comes from such a special place connected to those who have passed before us.
Without further introduction here is the Tzompantli slingshot or calaveras resortera (slingshot of skulls). The woodburning is based on this temple motif
Note: the flower in the picture is a marigold la flor de los muertos or flower of dead in Mexican tradition
This is the back where you attach the bands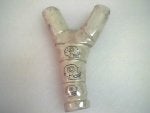 This is the face
I'm sorry for the glare as this cell phone does not take the greatest pictures.
The bands are the red #32s 444 chain enough power for hunting and good control already shot this a few times at a 40' target with stones and was able to score on the hanging soda can 7 of 10 times.
Thanks for looking..
Nico