·
So Many Marbles ------------- So Little Time ;-)
Discussion Starter
·
#1
·
The cheap wire sling from China and the Daisy F-16, or as I called it a few years ago the "Stealth Fighter" are my go to slings although I have many others. I have made slings for my friends using the Daisy frames or the Chinese wire frames in the past and both have worked out well and both can handle all the tube strength you care to throw at them.
I have made contact with the Chinese supplier of the cheap wire frame slings and may buy 25-50 of them ... Just the frames ---- as adding the handle wrap cordage, tubes, pouch and tube attachments, etc I add myself, the price should be less then .70 each for the frames I'm hoping. I'm buying these frames to make slings for my buddies as they are not looking for beauty, but function.
Below is one of my Cheapo slings with 3050 tubes attached although I can use just about any tube that you can imagine .... Green Dub Dub shoots like a rocket with this sling, I'll shoot any ammo with the right elastic set up to 5/8 marbles/steel/lead using my OTT set up.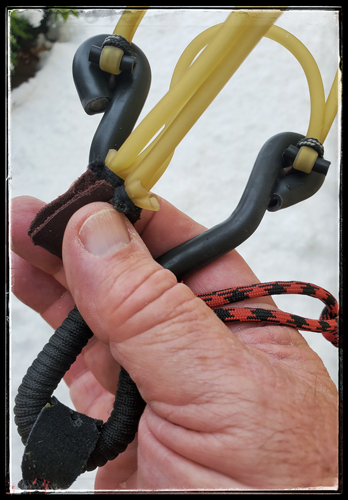 wll