Discussion Starter
·
#1
·
I made this one in the spirit of the "poacher catapult" favored by our friends in the UK. A proper poacher should be small enough to easily conceal, powerful and accurate enough to take game effectively and not so beautiful that you couldn't chuck it in the woods if you had to.
This one is micro-size, it fits easily in the palm of your hand. With the 4-strand 1842s it will surely take game from rabbits on down and I only spent about 20min making it so no worries if it had to be abandoned (truth be told, I'd probably go back for it, though
). It's even camoflage since I only sanded the bark down instead of removing it.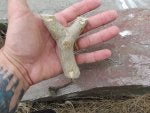 I don't shoot it so well yet because of my still healing thumb (those dots on my thumbnail in the pic are where I had to put holes in it to drain the blood
. The 1842s pack quite a recoil on this itty bitty frame and all that energy seems to go straight into my thumb.