Discussion Starter
·
#1
·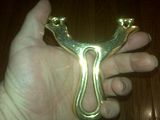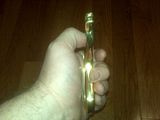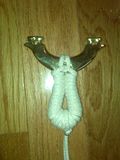 Recently due to a illness in the family I had to go to Florida for a few days, While I was gone I received a package from Pete Hogan. Apon opening it I found one of Pete's Pocket Poacher II, I was very pleased with this little shooter. As I understand it, this fork was designed to be customized by its owner, as you can see it looks just fine as is, but I decided in order to see what it might look like with a little work I would wrap the handle with cord, unfortunetly all I had on hand was some cotton clothes line, it actually worked pretty well but it will need to be changed in short order as it is already showing dirt from handling. The fork has a nice weight, good balance and fits the hand quite well, the wrap does add a bit of comfort but really isn't needed. While the fork has holes for tubes I'm really not sure how they would be used as this is really a over the top shooter....I did attempt to rig it with Chinese tubes like I do on my naturals but after one fork hit and two wild shots I quickly switched it over to flatbands (single band with double pocket pouch I received from Flatband) and had a real blast shooting it...While I am by nature a die hard through the fork shooter I have to say I really like this fork....
Over all I have to say I think Pete has a winner here....Great weight, size and look, my only issuses with it came from the fact that it is not my normal style of fork but after a little time with this little guy I could change my style. I think if you take a chance you'll really like this fork and I know you'll like doing buisness with Pete..
Sorry for the poor picture quality they really don't do it justice...