·
So Many Marbles ------------- So Little Time ;-)
Discussion Starter
·
#1
·
Been thinking about a SEDC (Sometimes Every Day Carry) sling with punch that is small and easy to carry. I chose a Chinese wire sling that is often sold along side the Cheapo slings I love. This wire sling is a bit smaller, uses slightly thinner wire for the frame, but is tough as nails. I set it up like I usually do, tossing the tubes and pouch and re-wrapping the fork handle and sliding rubber tubes over the rest of the fork and eye.
Wanted single tubes as it is a bit easier to carry in the pocket and not as likely to get tangled in time of need. I chose 3060 as those single tubes can handle the load
Also wanted a slightly wider pouch than I normally use but a real good one, using a Tex pouch, very well made and simple.
Now comes to the ammo, and on this one I will use lead oval sinkers, probable 1/4 oz (~109gr) as they fit in the pouch well and have a little margin for error. This a pretty potent stuff and I just checked my old records and was getting between 205-210 fps with 1/4 oz. This ammo size can put the smack on critter and is still going fast for a shot that is in the 30 yard area --- as I remember it went through a sheet rock wall at about 25 yards in testing I did a few years ago. I will probably carry about 6 ea 7/16 steel balls as back up, I'm thinking the first shot is the most important by far, so that is the heaviest. I may make up some 5/16" dual hex ammo instead of the lead, but time will tell with that
Why am I doing this ... I don't actually know, it just seemed like something fun to make and set up. I will go out tomorrow and fire a few shots if the weather permits for testing. If this seems like a stupid thing, let me know, I don't know how many of you have a carry sling with you most of the time but if you do let me know ? Quite a few years ago I had a set up like this but ditched it for some reason ?
Below are three pictures, the first one is of the sling, the second is a pic of a 1/4 oz oval sinker in the Tex pouch, and the third is of the sling banded up a bit to keep it from flopping around in my vest pocket.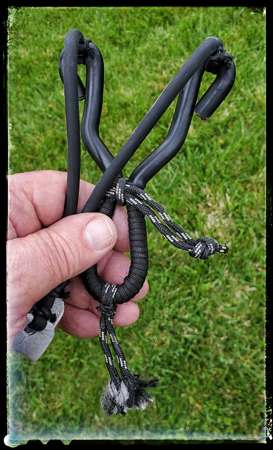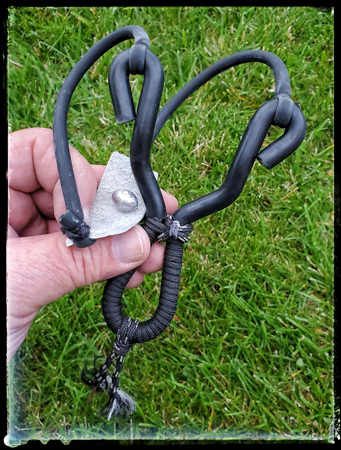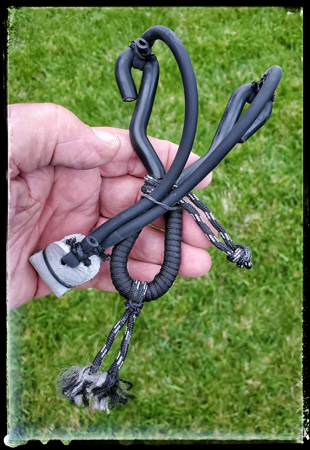 wll