I made this 2 years ago and carry it everywhere. You never know when I might...... you know. Zombie stuff happens and whatnot, yeah?
It's very thin but that's OK because you can't fire it with a hammer grip anyways. No bulge in pocket, yet ready to fire without warning.
The design is by Joerg Sprave... it's a "Rambini". I believe I am the only person on Earth who made it out of PVC.
And don't be fooled by it's size. It sends hexnuts (if used) at FULL POWER. I like to use smaller ammo with this chap, however. Later on that....
Let's make one:
Use heat gun to open up PVC pipe (1 and half inch in this case) into a flat panel. When heated up, you can use tin snips or scissors to cut PVC, no worries.
Cut out patterns, glue to panel and use a scroll saw to cut out. You know.. the usual.
Like so:
I used two. For thickness.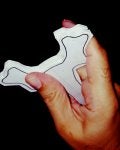 Heavy duty PVC cement: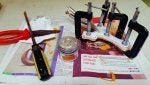 Everything else is self-explanatory... let the pictures roll: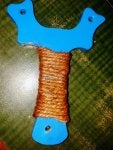 Better attachment method:
Unlimited ammo... .22 air-rifle pellets: