Hello everyone,
I finally got a good amount of free time today (still not enough)....and I was able to get down to the woodshop for the first time in a while. The original plan was to try and knock up a natural at home, but I had to take things in stride and jump on the opportunity to get down to the shop.
I only had an 1hr 30min but I managed do get a good deal done on 2 slingshots I had planned to make. One was a phoenix design inspired by Joerg.....it really does make for a great frame idea, so why not jump on the bandwagon. I cut it out of what I'm pretty sure was some quite strong maple plywood. I certainly cannot break it with my hands, nor can dropping it on the concrete floor, etc. so it seems strong enough ( stronger than many of my naturals too) As some of you may already know, I am really a natural fork kind of guy. I can find a lot more time to work on them at home, and I feel I'm better with hand tools at home than powertools in limited amounts of time at the shop. So here it is, quite roughly sanded in need of touch ups at home by hand. I do not have the greatest tools at my disposal but my jigsaw did quite well cutting this particular fork.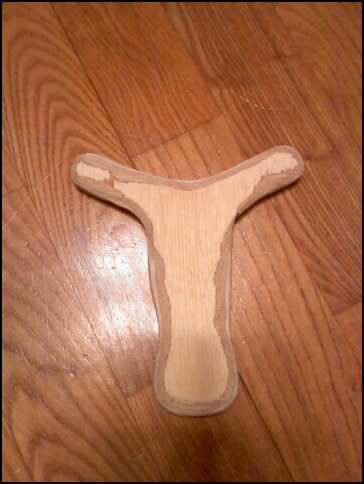 Not the greatest cutting job in the world, but I managed to get the shape well and I added a little horizontal palm swell.
Do you think this wood is suitable? .....possibly too thin, but it seems strong to me (I don't know much about ply quality)
I fits quite nicely in the hand, I'll add some cord for handle thickness when I finish it up.....I hope the low fork makes for minimal wrist strain as planned
Here is the other work on progress that will not be finished until I return to the shop again. It is inspired by my thoughts of easy band attachments, Holzwurm's shared pocket shooter ideas, and the frames of dankung. I'm quite happy with it's shape and size even at this crude stage. I only had enough time to pick out the eye screws (I'll bend them out a bit later) and cut it out. This oak is really where the jigsaw struggled, but I made it through without any major mistakes. Here it is, with absolutely no work put into it other than cutting out the shape.
The eye screws will go in and then bent out slightly so I can slide in looped bands etc in easily. Also, is the grain direction okay? Quite honeslt it's such a compact, small, and thick frame that I figured it would be a problem whatsoever, the wood itself is nicely aged oak that is 1 1/8" thick at the moment......can't imagine that breaking!
Though rough, it really feels nice in the hand, I love the chubby feel of it and the little finger rests give it optimal control
Many thanks go to Holzwurm for sharing his ideas on this type of design and inspiring me to do something similar. Thanks for looking, I'd love to here some of your feedback on these, as soon as they are finished I will update the thread with pics.
Take Care - John