Discussion Starter
·
#1
·
Have started a heck of a collection of slingshots. It's one thing to beg, borrow or st..(buy) someone elses artwork; quite another to make your own. I have acquired an appreciation for what the custom makers go through.
Started with a miss-cut Hackberry board purchased on the cheap (84"x 4" (mostly) x3/4" for $4.32 with a nice piece of edge ring Hickory)
and coped out a shape :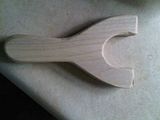 rasped, filed and sanded till :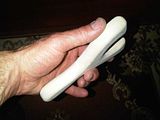 liked the natural color, but as a hunter catty needed a "woodsy" look - stain and satin poly was applied :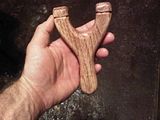 after an eternity of dry time in upper midwest humidity (and an hour in a hot box) I added the UltraPower bands off the PS-1 from Perry at A+Slingshots :
Anxious for a walk about/test fire, I walked out the gate. 5 seconds later a shot was presented...not sure what it started as, but ended in a "Thummmmp!" and "PooF!" of feathers :
Feels good in the hand and shoots very nice, thank you very much .My First SS#1... 2nd is in progress already...addictive indeed.