Received my custom pretzel from Danny yesterday. Didn't get to shoot until this a.m. due to some "Wrath of Mom Nature"
That is a 20' high root ball on the left of those magnificent Aspens...the rest of the trail is un-viewable/impassable because of the storm that passed through on the 16th- estimated at an F4 level, but which of the 20 some funnels?. Many farms were destroyed yet very few people were hurt.
Here is "The Wide One" from Danny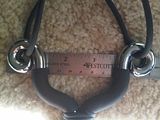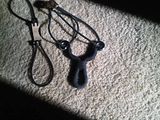 I wanted a pretzel with wide forks, yet be China-man small at the grip ,ears that stayed fairly narrow on the inside diameter with 10mm s/s rod ... Danny pulled through with flying colors. Every step of the process he sent updates so I was able to follow along with the making of it. Way different feel to shooting this one but it handles very well and is very precise. I did have to put my rather long band set on, but I expected to do that as I draw to my ear (@ 36" oal). If I'd have asked I'm sure Danny would have hooked me up with a longer set- but I didn't think about me being 'giant'
Custom is the way and Danny is more than helpful in providing a superior product.