·
So Many Marbles ------------- So Little Time ;-)
Much to my dismay I found another "New Style" PC-M4 (Cheapo) When I was looking at my supply of PC-M4 frames. I already have three of these set up, and may need to take them apart so they fit me better. (really not fond of this new style and I'm very happy I have some of the old style should I ever need them. I have about 5 of the old style set up and running, i surely don't need to set up any more. The 3 "New Style" ones I relegated to shooting lighter stuff as I did not like the grip until I did what I did today.
What I did was took off the frame ropes and cut the black rubber on the frame, throw the cr#p tubing away and burned the pouch (just kidding). I then put the slingshot in a big vice and flattened the big poorly positioned hump till it was even with the fork eyes, as I did not want to mess with eyes of the fork.. What this did was make the handle section a little bit longer, brought the hump down quite a bit and brought the back end up a bit. It is now quite a bit better, not quite as good as the original PC-M4 but much more usable IMHO.
I then did my thing by re-wrapping the handle section of the frame, covering the fork section with 3/16id x 1/16 wall x 5/16od tubing (using lots of dishwater soap, otherwise you can't do it). I then found some 2050 black tubing and put on a Warrior Pouch. I then added a finger sling (very important as it keeps these small wire slings up high in your hand and they are much more comfortable/usable and of course the sling can't slip out of your and end up in your face). I then put on a tassel on the butt end as I do with most of my sling shots.
This slingshot is big medicine for sure, I actually don't know what to shoot with it as I normally would set this up for heavy lead and I'm I don't have any need to shoot that now ... It would work with my 1/2 inch two piece square nuts, 1/2 oz lead oval sinkers and 3/4oz oval sinkers for sure ... that is a set up for big, big stuff. I have shot a few of those in the past and they absolutely ruin what ever they hit.
Below is a pic of the sling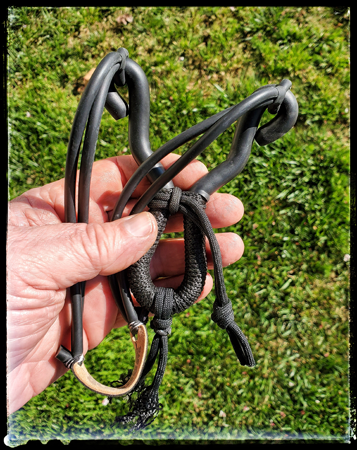 wll