·
So Many Marbles ------------- So Little Time ;-)
Discussion Starter
·
#1
·
I have been playing around to improve my aim with Chinese slings. I decided to use a paracord small gypsy tie and small tube peg configuration as a stopper I'm using a 1/4x20x7/16 long weld nut as a base for this experiment.
The first pic is what the slingshot looks like when it faces me. The second pic is the sling facing away from me. You can see the tube going through the gypsy tie and then pegged with a piece of tubing on the second pic. I have pulled and yanked as hard as I could to see is anything came loose and so far things are looking good.
I will take this method out in the boonies this weekend and fling some ammo ... .With the little testing I have done this attachment is working out pretty well and gives a very definite aiming point instead of trying to look through the metal fork frame.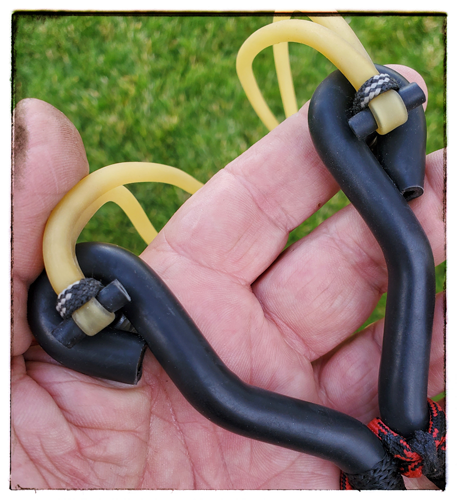 wll