Discussion Starter
·
#1
·
Here's some pics from the Slingshot tournament held in Alverton PA this weekend. Now, I'm not certain, but as far as I know 22 people shot in the competition. You could shoot for your competition score any time over the three days, that's why I'm a little sketchy on how many people shot.
The rest of the time we all had a ball shooting at glass, silhouette targets, a saw blade with a 22 blank in it you could set off if you did it right, and a lot of other interesting targets.
Sorry for the bad photography. I'm not much good at it but its enough to give you the idea of what we did and what it was like. You guys that were there, if I get something wrong feel free to jumb in there and correct me.
This is just part of those that shot. Jeorge and several others were out on the woods course when this was taken. Im the guy standing at the right in a white shirt and green pants. Right in front of me is Ray,
Heuy is next to me. He is the range master at the Alverton club and helped out at the whole event.
Kneeling right next to Heuy is Flatband AKA Gary. Then of course is JayBird, AKA Jay. Jaybird worked like a dog all weekend besides shooting. He made the event alot of fun and nobody could have done it better. Kneeling out in front there is Jim Harris. Im sorry I dont know the next four fellas names. I do know that two of them in the front came from WV. Then there is Jack Kohler in the brown hat. Next to Jack is Dan, then BunnyBuster, AKA Tom. In front of him is Alex. Once again Im sorry I dont know the young fella in the white Tshirts name.
Jack getting ready to shoot.
You all know this guy. Jeorge is a gentleman and a good sport. Its was great getting to know him.
This is Jeff Poorbaugh. He took third place. One heck of a shooter and a sportsman.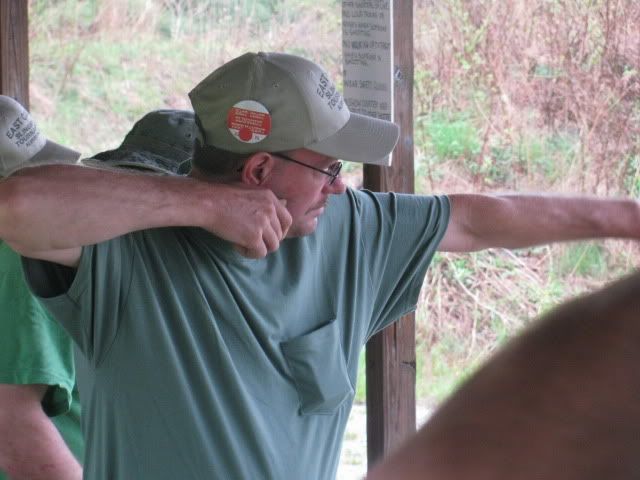 Gary and Jim on the shooting line.
Here I am getting ready for another spactacular miss.
I didnt do so bad really, I think I came in 8th place. LOL
This is Harry from PA. A bow and slingshot shooter from way back and a good guy to hang around with.
Heres ray and Jim, most likly discussing which of them should shoot the annoying guy with the camara.