·
Member, Brotherhood of Slingshot Nutz
Discussion Starter
·
#1
·
I have been shooting a lot of clay balls lately. Here is what I have discovered: The faster/more powerful a bandset is, the more erratically the balls fly. Conversely, the slower the flight, the straighter they fly.
I have this totally awesome slingshot I got in trade from Jmplsnt (on this forum). This thing is one of my very best shooters, and the rubber tube on it is amazing. It's a soft pull and doesn't zip the ammo out too fast, but it can still deliver a good wap! to the target. It is rigged in a style he calls "Gypsy" and is modeled after the way they do things in Arkansas, I think.
This slingshot is rigged with a large pouch for shooting stones, but shoots everything just as accurately as the carefully engineered ones as near as I can tell. I really love this fork and it is a serious contender for being my favorite.
A leather strip of shoe leather is held in place by windings of waxed dental floss, coated with super glue. The tubes are tied with the floss, too. I wish I knew the wood.
One of the most amazing things about the tubes to me is that this is the 3rd slingshot Jmplsnt has used it on, and I have at least 500-600 shots on it! Seems indestructible.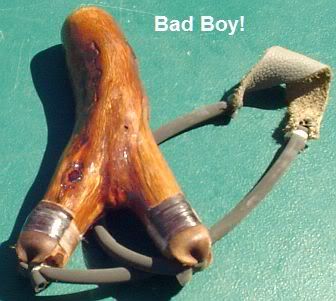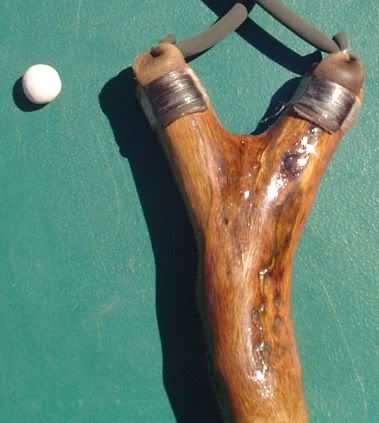 ... Oh, yeah. This was supposed to be about clay ammo, huh?. . .
Well, when I shoot the clay with Thera Gold, Thin latex flats, or 4-strand chinese tubes, they are only accurate out to 10 yards at most. But when I shoot with the BadBoy I can double that distance and shoot just as straight. It's gotta be the slower flight.
The BadBoy + clay balls = A lot of fun!