·
So Many Marbles ------------- So Little Time ;-)
I purchased a new Crosman 760 Classic from Walmart, a very nice looking little gun. It is very, very sleek, very clean looking and in my opinion they made some great improvements over the last generation of the 760. (although the last generation was very slim also, it had a different designed BB loading mechanism and a pellet magazine).
What are the improvements ? ------ I really liked them getting rid of the little pellet magazine that was always to me a pain in the neck. They now load BB's in the bottom of the grip cap. You can load up to a 1000 BB''s so you can keep a large supply of ammo in the gun if you shoot a lot. Crosman also redesigned the loading port so it is very easy to load single pellets,
any length
into the breach very nice
The redesigned BB switch is also more secure and won't open up to let BB's out - )
I would not keep a scope on this gun as I like very much the super clean sleek lines/light weight and feel without a scope. The redesigned touches IMHO improve the look and ease of operation of this gun I do believe.
I have a Crosman 760 Pumpmaster from about 3 years ago it has a plastic pellet magazine, loads BB's from the top and holds about 200 shots. To me it's not anywhere as nice as my new Crosman 760 Classic. I don't know if there still making the regular 760 Pumpmaster with the plastic magazine but I do know the classic version does not have it and I'm very glad it does not, for me the Classic is a much nicer gun.
I went out and shot some BB's today, I pumped her up 5 times for playing around and she is shooting between a chronographed 465 - 475fps using Daisy Premium BB's at about 50 degs F, fine for plinking cans and HOSP should they land
I sighted her in at 15 yards and that is where I'll leave the sights. Here is a bottom of a steel soup can shot at a measured 15 yards, the BB went right through and the can looked like it didn't move !!!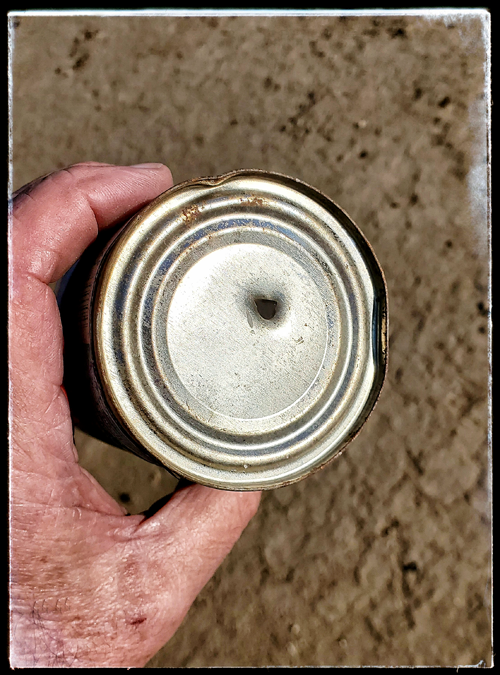 I have quite a few Daisy 880's and I use that gun for shooting pellets only, that is another very nice, accurate inexpensive commercial pellet gun, although it is not anywhere near as sleek as the 760. The Daisy mod # 35 is also another very good BB only gun from all reports I have read.
Below is a pic of my older 2017 Crosman 760 Pumpmaster and below that is my New Crosman 760 Pumpmaster Classic. Both guns were purchased at Walmart.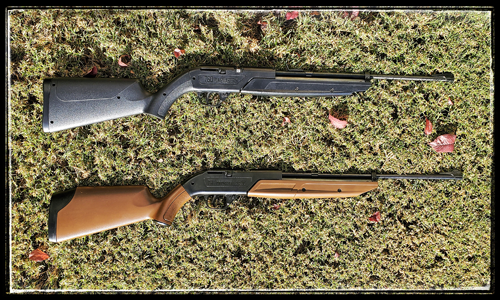 Walmart is selling the Crosman Pumpmaster Classic for $31.97 ---- a very good deal on a nice little gun.
I will be taking her out tomorrow to do some more playing around ..... After I go to Walmart in the early am and pick up some more BB's ;- )
wll