·
Member, Brotherhood of Slingshot Nutz
Finally got a chance to spend some time with my new "Dayhiker" pocket shooter from Tom. First thing I noticed is that this slingshot is a bit larger than it looks in the pics. It fits my hand and style of shooting just right. It is more comfortable than my Boston Blacky. Also, even though it can be classified as a pocket shooter, it is still a strong and sturdy slingshot, like all of Tom's frames. It will make a fine hunter -- if I ever get the chance to go, darn it.
Here's a picture of it in my hand, along with the damage done by Darrell's pickle fork. Trying to learn how to butterfly with it, I hit my hand in the same spot three times in two days! (low I.Q.)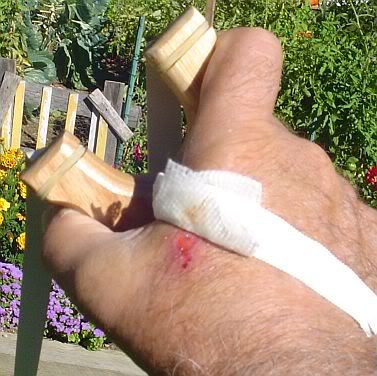 Here it is again. Doesn't it fit my hand nicely?
After practicing with a soda can, and hitting about 40% of my shots, I shot my customary 10 rounds at ten yards at a target this morning.
Haven't shot gum rubber since April, so it's taking a little getting used to. It's going to be good stuff for long practice sessions. I think this is going to be one of my best shooters. And it's a real handsome slingshot. The ash wood really makes me happy, it's my favorite.
I think the "Dayhiker" would appeal to many of youse guys. PM me if you want to buy one.