·
So Many Marbles ------------- So Little Time ;-)
Took my Toddy Mule out, it has been years, had looped 1745 on it with Gypsy ties and took them off.
Put on a fresh set of BLACK 22mm wide x 18mm wide x .7mm thick Simple Shot flats I just got this AM (thank you Simple Shot for the very fast shipping).
I took off about 1.5 inches from the front and the back of the bands, so when they were finished I had about a 6 3/4" draw length for my 32 1/2" + draw.
I pulled them back at home and said to myself these things are not powerful enough for my BB's !!!!
Went out to my spot and started to shoot some 3/8" steel ----- Boy O Boy was I surprised, they flew fast if not faster than my Kent looped #303's at 1/4 the pulling force..... I was very, very impressed
)))
The mule, BTW was a pleasure to shoot, I believe it is 3/4 size and is very comfortable.
I'll be back tomorrow for sure
Side Bar:
For speed is it best to shorten the pre-cut tapered bands by removing the pouch side or the sling side ???
Pic of the Mule Below.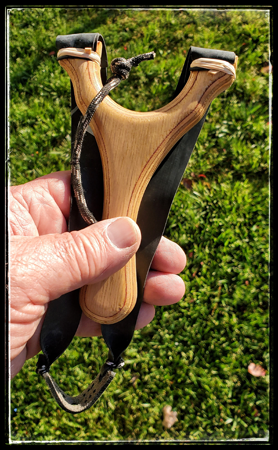 wll