Discussion Starter
·
#1
·
Greetings folks!
This is my 1000th POST!
not that it matters but I wanted it to be special
so if you just want to see the slingshot scroll down: )
If you have a minute, stick around and read on!
I've been on the quest to come up with an original frame. It's pretty tough. All the good designs are spoken for and I'm not about to try and rip someone off.
There are only so many that can achieve the level of comfort that I have come to love with some of the great slingshots!
A design that is not too complex/time consuming to cut out and shape.
Most of all though, a frame that is easily pocketable, shootable and comfortable.
After much experience with
Axioms
Chalices
Mini Hunters
Wingshooter Hunters
Seal Snipers
Y shooters and Ergos
and dozens of natty forks....
I owe thanks and admiration to the guys who have built and designed some of the best slingshots out there.
I think I have come up with a slingshot that is original enough to call my own.
If anyone believes this design to be too similar to someone else's they will say so with impunity.
Took a while to think of a good name for this one....
It is slim, and somewhat PFS-ish SO..... I present to you all
Slim Pickin' in Zebrano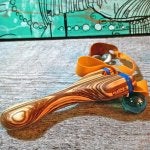 Thanks to all for the constant inspiration!
Brandon Bronson/Btoon