·
Loves the Pocketshooter
Made a trip to the local lumber yard last week, picked through a couple short piles. I ended up with a couple feet of ash, and a few feet of red oak. These boards are 8 inches wide and almost 1 inch thick. My total out the door, including sales tax, was $7.09. So here's where we're at so far.
Wanted to try some linseed oil. This is an mxred91 ergo design in ash, after a 24 hour soak in the oil. Turned out well. Hope my brother in law likes it as much as I do.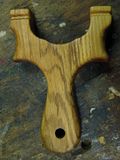 Here's a pic of a Bill Hays Kodiak in ash ready for the oil, and a rough cut of another mxred91 ergo in red oak.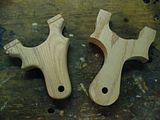 Thanks for looking and hope you enjoyed.