·
So Many Marbles ------------- So Little Time ;-)
Discussion Starter
·
#1
·
Started looking through my boxes and boxes and boxes of slingshot stuff when I was going crazy a few years ago and posting all kinds of stuff on this forum.
I decided I wanted a super light and thin carry sling for messing around ---- I went through my stuff and found a "Super Cheapo" wire sling from China. My "Cheapo" wire slings are not to be confused with the "Super Cheapo" slings from China. I also have many steel framed and boy I have some beauties. some of them are cased and bla, bla, bla. I got some real slings, I don't even know if they still sell them anymore - I haven't looked in a long, long, long time. I have another tool bag that's extremely heavy that all it has in it is my custom modified Daisy F16's.
The "Cheapo's" are very, very good and use very thick wire (.285 vs .225 of the "Super Cheapo" and .250 for the Daisy F16 !!) --- they are premiere wire slingshot frames ! I bought a bunch from China when they were about $.95 ea. My last shipment included a couple "Super Cheapos" and was told they were not making the older bigger "Cheapo" style I was buying. At that time the price skyrocketed so I stopped buying.
-------------------------------------------------------------------
Back on Track !
This sling needed to be worked on a bit and I did that.
I re-wrapped the handle and blued the frame and then slid some small diameter tubing over the exposed fork section --- A real PITB !
I had to reshape and cut the eyes a bit so it had no sharp edges, I'll be shooting 1/4" lead shot and 5/16" steel and that is all with this little tube set using looped 1032's or 1636's. and a small fitted pouch. It should be a reasonably powerful, small and easy to carry shooter.
Pic Below of The Small Carry Kit ;- )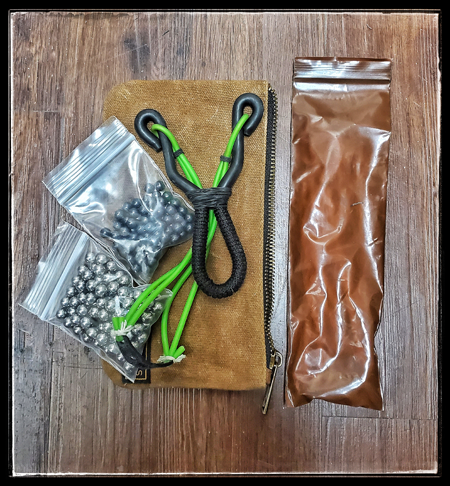 Later,
wll