Howdy folks
Just bought this Slingshot rifle kit off of eBay, it came with silver rails and a collection of unfinished laser cut components ready to be finished and painted.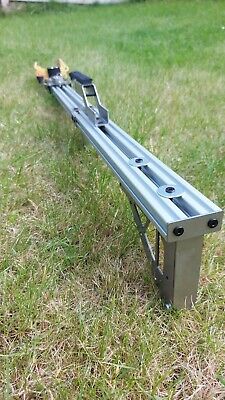 This is a rubber band powered Slingshot unit. Fully compliant with UK Law and classified as any other muscle and rubber powered slingshot or catapult. UK Powerful Specification Slingshot Rifle, No extrusion rails.
Unique Slingshot designs, high class manufacture, Slingshotrifles.com supply the best
www.slingshotrifles.com
I replaced the silver rails for black ones and modified the lower slider carriage plate to take the trigger come handgrip from the same seller.
She has 16 X 3/16" rubbers which give a very powerful release at 22 inches stretch, more than enough to go clear through a rabbit at 30 yards, using 3/8" balls, a very capable weapon.
I painted everything black and added my own Picatinny rail plates from stock alloy 1/4" plate, these allow other items to be added later and hold everything firm and square.
She is cocked by pulling down on the two red handles on the top plate until the lock slide click in, there is no safety atch and why I aded a trigger gaurd and grip combo.
After testing I can say she is pretty accurate giving two inch groups, 10 shots at 25-30 yards.
Cocking is quite easy but younger ages might find it a tad harder to cock, but the catch bar can be moved forwards for easier loading.
The picture below show the modified lower plate to accomodate the trigger gaurd come hand grip which really finishes off the whole rig.
The pictures below show the final setup,
I might do a video and crony test sometime this fall to show how powerful it really is and how accurate it is over several distances.
Thanks for looking.