·
Member, Brotherhood of Slingshot Nutz
Discussion Starter
·
#1
·
Busy day ahead. This morning had just enough time to do a little target shooting with Dgui's pickle fork. After shooting butterfly style for only about 5 shots at a can at ten yards with the OTT fork (I'm improving). I broke out the tubed one.

I shot a few rounds with it, and hit the 7 oz. Coke can maybe about 1/3 of the time, as I usually do on an average day. (Some days I do much better.)
So I set up a target to have a go. First here's a copout, but it's true. Whenever somebody watches me, or I have to show my shooting, I choke. But hey, I'm not here to impress, just to share my fun. The first two shots were off the target altogether??? And I did so badly with my first ten shots, I shot ten more, finally settling down somewhat. But here it is, the whole mess. I know with a little more practice, I'm gonna get good with this little thing.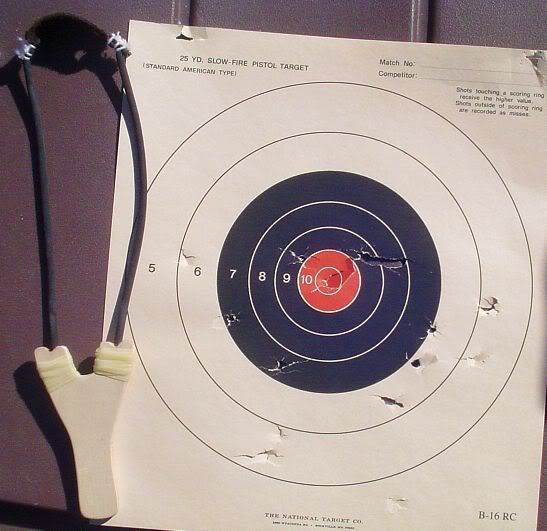 3/8 steel at 10 yards.
For those of you who own a Fish Hunter, here they are together to give you an idea of size.
I had fun shooting, hope you have fun looking.