·
So Many Marbles ------------- So Little Time ;-)
It's 6:15 79deg and the humidity is starting to climb.
I set the chrono up and waiting for the sun to start casting a shadow so I can get some readings. The cloud cover is pretty heavy so I'm not going to get my readings first thing out of the box. The first shots will be with 1030's singles shooting BB's and 1/4", the next will be 3050 singles shooting 1/4" and 5/16"
So far no signs of life, the humidity and the low hanging clouds give the desert of pretty eerie dark feeling, it looks almost like it's going to rain. There's a very slight breeze but nothing else, it's about 6:30am now and the sun maybe trying to lift its head over the low hanging horizon clouds, that will take another 15 minutes or so, I'll just sit and wait.
The sun now has again gone behind the clouds, I fired about 6 or 7 shots over the chrono to try to get a reading and so far nothing, this is really exasperating.
Well the sun is peaking in and out and I give it another go ........ .
The results are beyond expectations
.
The 1030 single tubes with BB's are going ~
298fps
---- the 1/4" was zipping along in the
265fps+
area ---- I was extremely pleased, especially since it is such a light pulling tube. I might add I can shorten up my active a bit as I was not at the wall, this tube seems pretty stretchy !!
The 3050 singles were a bit of a surprise also, 1/4" going in the
295fps
area and the 5/16" in the
270fps
area --- this is very close to looped 3050 settings, showing that rate of retraction is rate of retraction no matter how many tubes your pulling, as long as the ammo weight is in the zone of the elastic why use more UNLESS you plan on using heavier ammo with that same tube set !! Single tubes are easy to set up -- Bada Boom Bada Bang.
I knew the 3050 singles would do well, but the "Best of Show" was the single 1030's --- tremendous speed with a very light pull weight for the BB's and a very good speed for the 1/4". If I shorten my active 1/4 of an inch, I'm sure my speed would be more. Now the question is tube life, time will tell ?
This was a very eventful day, I was very pleased with both tube size results, for the 1030 results for BB's AND the 1/4" and the 3050 singles with 1/4, but more importantly the 5/16" as I have a
LARGE
amount coming in a few weeks from now. These speeds were not taken when the sun was out to warm up the tubes either and like I said i was NOT shooting at the wall ... I have an idea there was some velocity left on the table with this first testing.
As I'm sitting here writing a few friends show up to keep me company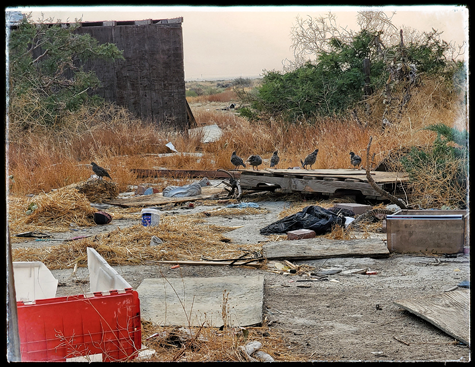 I go outside to fling a few with the single 1030's. I'm shooting at over 30 yd into an open door with a black background, there is no light in the barn yet and I can see the flight of the BB, it is flying quick and it is flying straight --- I'm extremely happy. I then reach into my pocket and pull out a few 1/4" steels and they too are flying very quick and reached the target very fast ---- I am extremely, I said EXTREMELY happy with the performance of these little bitty skinny spaghetti tubes for fun and for messing around, like I said in another post these tubes were made for kick'n back under a tree shooting pine cones or whatever and maybe knocking down an English Sparrow or two, man a live, this little tube is really the cat's meow
I leave this location but instead of going home I go to my other shooting area, I fill up a pocket with BB's and 1/4"steels. I'm shooting the single 1030 slingshot to give it a thorough testing.
I'm shooting from the driveway to an old burnt out building at a measured 33 yds from where I'm standing. Those BB's are flying flat I am really overjoyed at the speed of these little guys, I can watch every single shot clearly and the flight path. --- then I take out a 1/4" steels and still shoot at the same distance, they also are flying fast and flat, definitely no softball. Again, I would definitely use these 1/4" balls with this set up for Sparrows !
I'm super pleased at the ease of pulling and the speed that I'm getting with these little bitty tubes ------
I'm outta here.
wll