·
So Many Marbles ------------- So Little Time ;-)
Discussion Starter
·
#1
·
First Thoughts
:
Just got my Flo Green 1636 tubes in yesterday and just started to play around with them.
Right out of the box you can tell even though the tube diameter is small, this is some tough stuff, it is very snappy and wants to come back to "Ground Zero" very quickly.
I cut my loops just over 6" long active so my elongation factor is around ~535 %. The ammo most of the time will be 1/4" steel, with some 5/16" steel thrown in.
After setting them up yesterday and pulling them back, there some resistance, a more then my single 3050, which is nice shooting and not as hard to pull back as looped 2040's. It will be interest to see how it performs and how it feels to shoot when I'm in the field. I don't want a tough pulling band set to shoot 1/4" ammo ... I'm hoping for more speed then single 3050 and single 1745's, but still not be heavy to pull back for the ammo size.
This is my first trial into 1630+ tubes, so it is a bit of an adventure. Truth be known I never thought I would be using tubes this small, and now that I have them I'm happily surprised on first glance.
Testing In The Field
:
It is late afternoon and the weather is in the mid 80's. The slings have been in the cooler for the road trip so we shall see.
My first shot with the looped 1636s' is with 1/4" steel at a range of 32.5 lasered yards .... it zips through that measured old broken window on a straight line, it is seriously moving quickly. I shoot another sling with light pulling yet fast single 1745's and the looped 1636's is very noticeably faster ..... I'm very happy with that .... but it does come at a small price, and that is, just like the other bigger tubes I used, it is a bit harder to pull back, not uncomfortable, maybe about what feels like almost 2/3rds the pull weight of looped 2040's. So it takes some force, but it is no deal breaker and for me very hold-able at full draw. I then shoot a little sling that I put single 1636 tubes on, this was set up just for 177cal BB's and it really zips them out with very little pull weight. I then put a 1/4" pill in the pouch and launch that, it flew well. Almost as fast as the single 1745's, but did not have chrono with me and just went with just the way it flew. I then took some shots with the 3050 single tubes and I'm very, very happy with their performance, a very nice easy pulling single tube for 1/4" and 5/16" steel that has very good speed IMHO.
I walk around my shooting area, shooting four different sling set ups, and I'm happy with all of them ..... the easy pulling single 1745's, single 3050's, the single 1636's and the looped 1636's. The looped 1636 does have much more poop for the heavier 5/16" steel and sends them out quick, a big plus for me for light pest bird hunting. To be fair the single 3050 is really no slouch when shooting 5/16" either
The single 1636 tubes are very nice to shoot and a joy when you want to launch 177cal BB's at a fast easy pulling flat shooting clip. The looped 1636's are barn burning fast with 1/4" steel, and do very, very well with 5/16" steel. Actually the looped 1636 tubes are better suited for 5/16" steel as they are over powered I feel for the 1/4" I'm shooting.
My Take on these tubes for Small Ball
?
Well they all have a purpose, and one really is not better than the other, each one has an application, !
1636 Single Tube. - I think for light pulling target shooting this tube is tough to beat, has enough speed for back yard target with 1/4" steel and also sends 177 cal BB's out very, very well. A nice light tube set.
1745 Single Tube - this is a step up from the 1636 IMHO in that it is better suited for 1/4" and 5/16". Easy pulling yet has some poop. I would take this out on a nice walk with a pocket of 1/4" steel for sure.
3050 Single Tube - easy pulling and sends 1/4" and 5/16" very well. This single tube is a real winner in it is light pulling and zips the small ball ammo very well. If I was hiking and this was all I had for 1/4" and 5/16" I would be fine.
1636 Looped Tube - This is the powerhouse of the tubes sets I shot. It sends out 1/4" steel like a lightning bolt and 5/16" steel is right behind. I would not use this set up for target as it is to much pull weight, over and over pulling back ---- I would use it for a very fast shooting and extremely flat shooting small pest bird sling or a long range field sling, with either 1/4" or 5/16" steel. This is the set up I would carry when a light weight carry pest bird shooter is on my mind. This set up is a firecracker, especially at 535% elongation.
What would I would generally carry ? - It would be a single tubed 3050 !! ---- It is easy to pull back and is very, very fast with 1/4" steel and very quick with 5/16" steel. It is easy and smooth pulling and it just works. No, it is not as quick as looped 1636, but it is still very fast and quite a bit easier to pull back. Pic of the Luck Ring with 3050's I used and the Mini Cheapo with looped 1636's below that.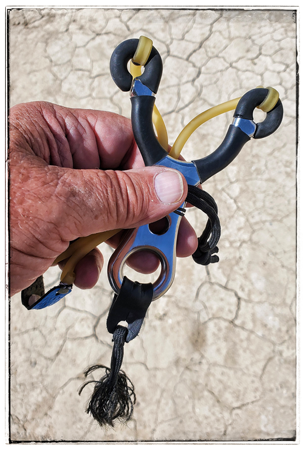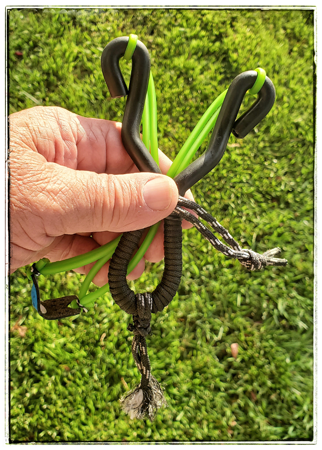 After a day of shooting, writing and taking pics, I'm tired ;- )
I'm out a here for now.
wll