·
So Many Marbles ------------- So Little Time ;-)
Here is a list of the micro Fiber pouches I use at the present time - From top to bottom:
1) GM-BW 40mm x 13mm x 8mm Pouch
2) GM-BW 43mm x 14mm x 7mm Pouch
3) GZK 43mm x 13mm x 7mm Pouch
4) Ali Express 45mm x 10mm x 7mm Pouch
5) GZK 48mm x 13mm x 8mm Pouch
6) GM-BW 48mm x 15mm x 8mm Pouch
7) Ali Express 50mm x 14mm x 8mm Pouch
All these pouches work great, the GZK with the holes on the sides are very fast to load, a super pouch as is the tiny 40mm GM-BW on top.
The Ali Express 45mm is a super cheap yet great pouch for 1/4" and 5/16" steel and is barely capable of 3/8" steel also.
The last two on the bottom are my generic type pouches that are both great for any size "Small Ball" (1/4"-3/8") you may decide to use. I would never go over 50mm in length for any ammo 3/8" or smaller.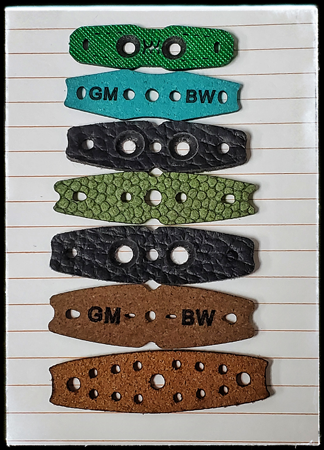 wll