Hello everyone,
As many of you know, I'm an experimenter with slingshots, at best I'm no tourney shooter. I make a consistent effort to try all forms of elastics, why only stick to one when you are just getting going? I believe that in order to at least ave backing behind your opinions with slingshot elastics you would do well to have tried them all, or as many as possible. That way you develop a total understanding to allow for educated evaluations of your preferences. That is just my philosophy in the early going. Yes, I declare myself as I chained rubberband advocate and dedicated user, but I don't limit myself.
Yet, despite this attitude, when it comes to hunting I am all business....to me it is very important to spend time honing my skills with my bandsets of choice and selected ammo (still a scrounged variety of lead, stones, steel, and hex nuts). I have a hunting rotation of around 3 slingshots 2 of which usually have the same bands, while the other dons my next in line of favorites. I'm sure others have different philosophies, but this is just me.
Now, for the last 2 months I have searched for a long lasting bandset on the cheap that will hurl my stones (important because they are free) at good speeds. I pursued solid square rubber, but that was to difficult to acquire and expensive to rely on it in the U.S. Then I tried heavy tubes, doubled thera-gold, and then settled in with some cheap 64 chains. They shoot great at about 10 cents a bandset. Now, I do not wish to start a best elastic discussion, I am just setting the stage with a little exposition before I explain further.
A few weeks ago I realized that Nico was in search of the round solids from his past that worked great alongside his chains. Hearing this I racked my brains to remember the source where I had seen him. Once I located it we both ordered some in hopes it would fit the bill that his solids once did. After a few days of anticipation, they arrived.......I intercepted the delivery guy in the middle of the road, tackled him ,and secured the package in no time (okay that didn't happen
)....
At this stage in the game, they are everything I hoped for, good snap, hefty, yet very smooth draw, smooth finish, and ease of attaching. I had about 45 minutes today, so I strapped up on Jmplsnt's elm fork with tabs that had just gone naked as my 64 chain snapped at around 450 shots....It looks great, seems safe, and is attached cleanly......I think they will last a
long
time.
I attached at the pouch a la "Tyke" the famed British square rubber user, who is an incredible hunter, a legend in my book......So far I have hurled about 20 shots downrange at 10m in the cold. In that time I had to hold a funeral for a coffee can, because they shot great....and to my observations did not even get cold. They have satisfied thus far.
Here are some pics, I was out o natural light so they aren't of the greatest quality, they don't do Jmp's beautiful slingshot justice.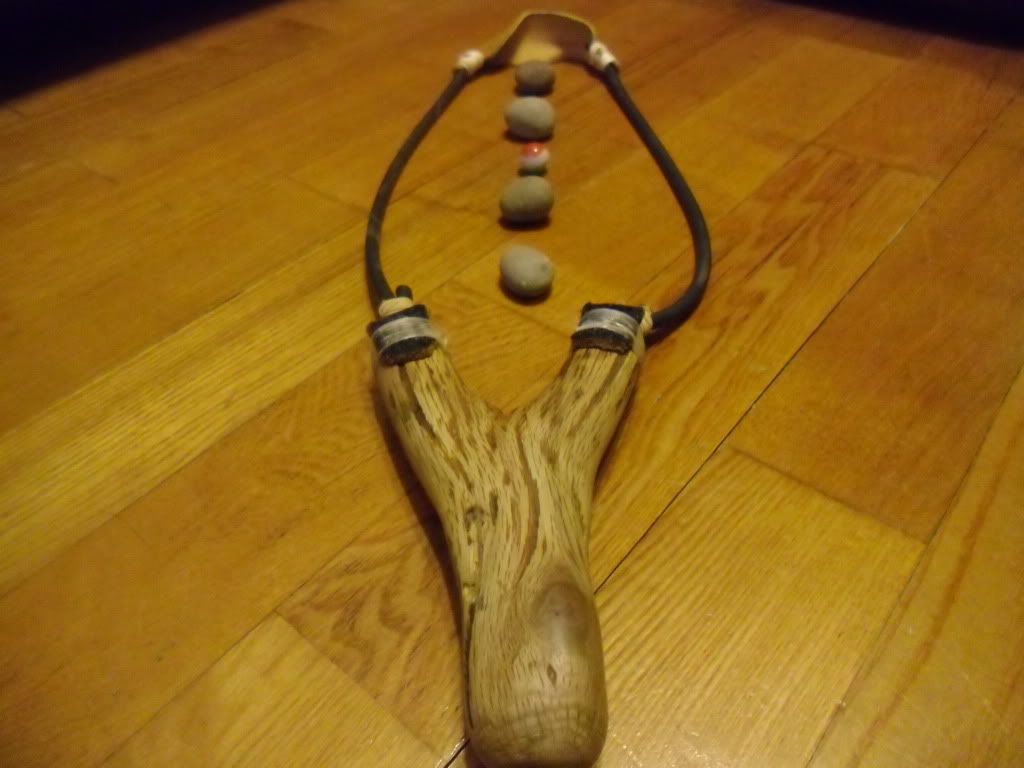 There is the fork and bands, with some of the stones I use. They are a great shape and weight, as you can see them next to a 1/2" marble...a bit big, but this results in devastating impacts. The best part about it is there is a lot more where that came from!
Here is a better view of the "Tyke" pouch attachment method, I'm sure other square users use this too, but he is who I learned it from.
Thanks for looking, I look forward to your responses, I think Nico and I will continue to post and update here for at least the duration of the initial band lives with these solids. You'll have updates from me on them occasionally as well.
Take Care - John