·
So Many Marbles ------------- So Little Time ;-)
I did a bit of an experimenting today, I took Kent #802 tubes (1/4id x 1/32wall x 5/16od) and put them on this sling below: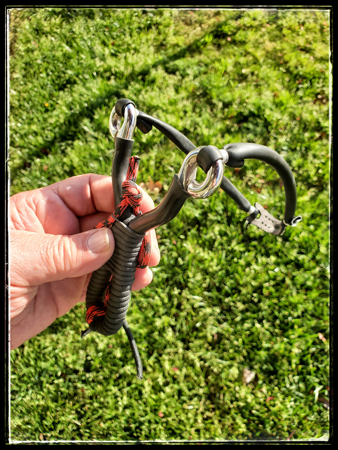 As the tube's wall is .031 and the outside diameter is .312 (5/16)
This size tube is giving me a circumference of .980 - very close to a 25mm flat.
My Simpleshot pre made bands which are very, very good are 22mm wide and.7mm thick (.027"), again my wall is .031 ---- only .004 more than the FLAT ! The flat does taper though from 22mm to 18mm.
All in all these tubes are pretty close in thickness although the tubes circumference if laid out flat is .114 wider !
You would think when stretched to 500% or + these should be pretty effective and reasonably close to the flats if not better, and not an absolute toad !
Well, what I have in my hands is an large amphibian ---- I would think that this would be a good substitute for flats --- would wear longer as there are no edges, and super easy peasy to install. Boy did I get a wrong number.
I was greatly hoping to share my good fortune with all you fine folks in finding the Holy Grail of Slingshot tubes ------ and from this day forward the light would shine on us tube shooters - there would be peace in the world and good will to all -------- Well it didn't happen, the streets are still dirty, I'm still fat, Covid-19 is still with us and the tax man is at my door -----
Maybe tomorrow I can win the lottery
Now the question, What went wrong ?
These are fresh Kent elastic, good, good quality stuff. The walls are thin (thinner than .8mm flats) and wide. About the ONLY difference is, it's a tube and not a straight walled flat !
These tubes were also
very
loud, louder then the Simpleshot flats I have on the other sling for sure ! Don't get me wrong, they do shoot smooth, but are lacking in the power department and the noise was a real annoyance that would scare game away if they were anywhere close. I had these stretched to 500% and then went a little more .. it was not in the cards.
After doing my testing I took them off the sling and will use these tubes like I have been using them, for wire frame coverings on my Cheapo slings.
I'm pretty stumped, is the air inside the tube causing a breaking effect, is that possible? When the world was made was whoever in charge an anti- tube slingshot guy ? I'm at a loss !
I have some Kent #404 I just got today, it is like the small brother to standard F-16 tubing -- It is
1/8id x 1/16wall × 1/4od ----- we will see how this performs on my slings shooting 3/8" steel and see if it out performs what I shot today !
As far as the #802 Kent I just tested in this thread, I would have to say pass, there is better out there. I was hopeful but it was not in the cards for me !
wll