Tumbling and polishing lead shot, resurrecting steel.
Greetings all,
I put my batch of 8mm lead's thru a home made tumbler like this.
The leads in this video are not shiny and I noticed that other leads on the net are shiny and I looked it up. Firearm forums discussed putting some graphite in the tumbler while processing them. I tried it and it worked very nicely.
From the left 8mm lead untumbled, middle tumbled lead and right tumbled lead with the graphite, very nice.
Cleaning rusty ball bearings for re-use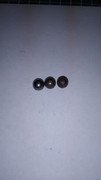 Right rusty, middle vinegar and soda crystals and left tumbled with graphite.
I have some 8mm steels and they where a bit rusty like in this video and I did what he says, White vinegar with soda crystals. Well that worked out very nicely too. The soda crystals reacted with the vinegar and made a bit of gas, I shaked them and left for 24hours before rinsing them. The steels where rust free but not as shiny as new. It was logical to try tumbling the steel's with the graphite to see what it would do to them. Well they are almost like new now.
I hope someone has found this post informative. I certainly learnt something along the way.
Salutations PK.